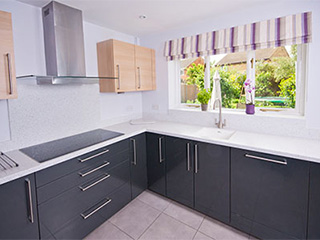 Windows make up very large parts of our homes. When they're laid bare, that is to say, without any cover, they rarely bring together an optimal indoor ambiance. But when you add blinds or shades, you can really make the most out of natural lighting, and even enhance the room's interior decor.
Going for Patterns
Patterns are always nice to look at. Their popularity most likely stems from the desire to have artistic adornments on garments and other decorative fixtures. You may be used to seeing design patterns on clothing and various accessories or furniture borne of an artistic slant. It is in this vein that patterns are so often used with window treatments. Since windows occupy a very conspicuous space in our homes, it seems natural that their coverings need to be aesthetically pleasing. This is why classic window treatments such as roman shades come in a variety of patterns. You can choose to get ones that have a regularly repeating pattern or a singular shade. This is achieved with the use of fabric textures or with imprints.
Unique Designs for Windows
Not all window blinds and shades look or feel the same. There are many different brands and manufacturers available to choose from nowadays. This directly translates to a variety of products. The "best ones" in this case, as in any case concerning personal tastes and preference, depend on their relation to the current design theme you're going for. If you're going for a sturdier and more textured look, you can always go with window shutters. Either that or some other form of sturdier blinds. These can be made of wood or faux wood, for a more textured feel. Alternatively, they can have smoother vinyl or aluminum-based appeal. If you want your windows to look a little softer, you can make use of fabric-based functional designs. There are advantages and disadvantages to each type of covering that exists today. Finding the right choice for your home or office can be difficult, but that's where professional assistance plays a huge factor.
Nearby Window Treatment Experts
The type of blinds or shades that suit your needs is mainly determined via a personal preference. That's why there really is no right or wrong answer here. Some of the things that you should consider when choosing is the material, ability to block or allow light in, the color, the aesthetic appeal and how well the shade you choose complements the look and overall design of the surrounding decor. You can have a lot of fun with your choice, letting your uniqueness shine through. Mission Viejo Blinds & Shades offers free in-person consultation appointments to help home and business owners like yourself decide on the right treatment options for their windows.