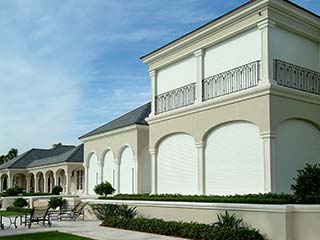 The optimal way to control window blinds and shades nowadays is with remote control options. From a simple wall switch you can click to raise or lower the motorized window treatments to remote handsets you can pick up and use to Wi-Fi connected apps. Somfy blinds offer you the full variety of remote control features for a wide range of motorized shading solutions. With help from local motorized blinds installers in Mission Viejo, you can find the type, materials, and design that best meet all your needs. Custom made motorized shading solutions give you complete protection and a wonderful addition to interior décor too.
Wireless Motorized Blinds – Solar & Battery
The use of new-age technology to create motorized Somfy blinds has allowed for a great deal of convenience when it comes to installation and power sources. Choosing battery-powered blinds gives you the option to have a motorized shading solution completely detached from the main electrical infrastructure of the property. That means power outages will not affect them. With solar-powered motorized blinds, you can utilize energy from sunlight to store power, thus saving money as well. Wireless motorized blinds make for a faster installation, as there's no need to draw cords or wires across the walls, which can also ruin the aesthetic.
Automatic Window Coverings
With special sensors for temperature, brightness, and even motion, Somfy blinds can offer Mission Viejo area properties complete automation of the window coverings. Smart motorized shading solutions can measure the temperature indoors or the brightness levels and then open or close the blinds on the windows accordingly. This clever feature helps with energy efficiency, protecting the desired indoor climate, and letting you utilize natural light for day-to-day purposes. Somfy motorized blinds can incorporate these smart sensors for very convenient operation and even automation.
Mission Viejo Source For Somfy Shade Solutions
Meet with an expert in the comfort of your home or office to discuss the variety of features and looks our custom made motorized blinds and shades come in. Learn about Somfy controls smart features that are worth your consideration and ask the professionals about any subject you're not sure about. We offer free estimates on smart motorized blinds for Mission Viejo and nearby areas. Contact us to book your free consultation to learn more.