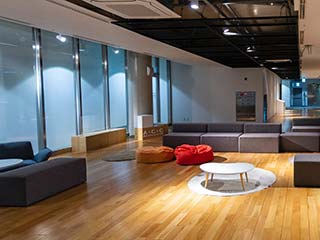 Window shades are one of those indoor features that you don't think about often but become painfully conspicuous in absence. Well-designed shades can do a lot more than just keep the sun out of your eyes, though! With an eye for aesthetics and interior decorating, you can choose shades that really tie the room together and beautify the place. If you incorporate modern technology, like Lutron smart motorized shades, you get a lot more than just aesthetics and basic utility!
Save AC and heating costs, prevent furniture damage, and discourage prying eyes, all without you having to so much as push a button! Custom-designed Lutron shades are available at affordable prices for any Mission Viejo home or business. We even offer free estimates and consultation upfront, no strings attached!
Benefits Of Motorized Shades
Old fashioned hand-drawn shades get the job done. The downside is that you have to raise and lower each of them yourself at least twice a day if you want to keep your home temperature comfortable. Or your furniture intact, if it's sunny enough! Motorized shades save a lot of time and effort. They're also much safer for people with small children at home, thanks to the lack of cords and hanging strings. Lutron motorized shades also include smart controls, which give you further benefits.
Benefits Of Smart Controls For Motorized Shades
Window shades need to be reliable above all else. Even if you have a good memory, human error and unforeseen situations will lead to your shades being left up or down when they shouldn't be. Every time that happens, you'll likely end up spending extra on heating, air conditioning, or home maintenance. With WiFi controls or automation, your Lutron smart shades become almost 100% reliable. In the long run, they'll save you money instead of costing it!
Affordable Lutron Shades For Mission Viejo and Nearby Areas
With our free consultation services, you can quickly pick out exactly the look and style of shades you want. Blackout shades are good for sleeping and resting areas. Sheer or layered shades for more general living and workspaces. Simple roller shades for general use. Roman shades for extra aesthetic decadence. Our experts will help you make the best motorized Lutron shades for your Mission Viejo area property, and give you an estimate before you place an order. Call to get started on your custom motorized Lutron smart shades with a free consultation!