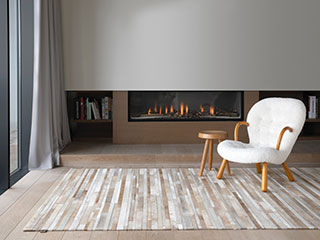 With remote control window treatments, you can achieve much better control over sunlight and automate different parts of your property to effectively utilize natural light. Since sunlight is so readily available most of the time, by properly programming your motorized blinds with smart controls, you can make use of them all day long. With custom made motorized window treatments for Mission Viejo homes or workplaces, we offer customers advanced remote control blinds and shades at very affordable costs.
Wireless Motorized Window Blinds
Don't like the way wires run across walls and ceilings? With wireless remote control blinds, you don't have to worry about that. Motorized blinds can have independent power sources, letting you use batteries or even solar power. Smart blinds can stay on even should the main power go out, letting you still control the window treatments and let in more light.
Electric Blackout Blinds For Bedrooms
A great way to benefit from motorized blinds in Mission Viejo bedrooms is with blackout features. It's very important to darken the room when trying to sleep. With smart motorized blackout blinds, you can create total darkness, which is ideal for sustaining sleep as well. With automatic window coverings, you can also use the smart blinds as a wake-up system, replacing the blaring alarm clock for gentle sunlight rays.
Motorized Rolling Shutters and Shades
Many prefer the elegant and aesthetically pleasing look of rolling window covers. From sheer roller shades that diffuse sunlight to strong and durable rolling shutters, motorized window treatments can offer great enhancements to both the décor and the overall utility. With their smooth movement and quiet motors, motorized rolling shades and shutters cover or uncover the required surface area at the push of a button.
Smart Motorized Blinds – Free Quotes For Mission Viejo
With Wi-Fi connections, you can use tablets and smartphones as the main remote control for your smart blinds. Motorized shades, drapery, and window shutters all have something to add to your residence or business. With free consultations from top Mission Viejo motorized blinds installers in your area, you can find the best combination of features and designs for your property. So reach out to us today to schedule a free estimate on motorized blinds or shades for any need you have.