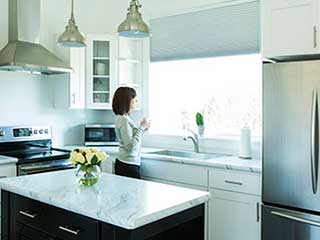 These simple, user-friendly window coverings are low cost, low maintenance, and highly customizable. While the basic roller shade is a functional sunlight blocker and privacy protector that doesn't call too much attention to itself, you can have yours make a strong aesthetic statement with a few customizations.
Roller Shades by Definition
A roller shade is a sheet of fabric or other thin material that hangs down over the window pane, either inside of the frame or just outside of it, from a rolling spindle above. The shade is closed by releasing the spindle and allowing the sheet to fall down over the pane and opened by wrapping it up around the spindle. This is one of the oldest, and simplest, types of window shades.
The Advantages of Rollers
Roller shades don't break down easily, due to the simplicity of the design. For rooms with sparser or more unassuming decoration schemes, roller shades can serve the role of airy window coverings without calling too much attention to themselves or sticking out unduly. On the other hand, if you want fancier looking shades, Mission Viejo Blinds & Shades can custom make you a set that are anything but "unassuming."
Diverse Customization Options
Roller shades can be made from nearly any sort of fabric, in any color, pattern, or thickness. Wood fiber weave and bamboo are also options if you opt for better decorated roller shade designs, as are solar sheets and cellular or "honeycomb" compositions that provide extra thermal protection. All of our roller shade designs are available in either hand-drawn or cordless, motorized styles, to help you prioritize convenience, expenses, and child safety.
Call Us Today
Contact Mission Viejo Blinds & Shades by phone or online for the exact roller shades or other window treatments you need. All products come with a free consultation visit, a five-year warranty and our professional installation team at your disposal.