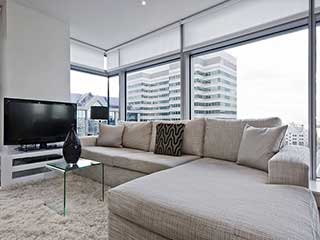 Any types of shades, blinds or draperies can technically be motorized, but some styles require too much engineering for most to consider it worth the effort. Here's a primer on which types can and cannot, and why that is the case.
Simplicity of Motion
The most important question in figuring out how easy it is to motorize a type of window treatment is this: how complicated is the hand motion that someone needs to perform in order to open and close it? The simpler the hand-powered procedure is, the easier and cheaper it is to design and install a motor that can do the same thing. The machine that requires the fewest moving parts to work is the least expensive and most reliable.
Drawing a Cord
Fortunately, nearly all shades share a single, very simple opening and closing mechanism - you pull on a cord. Any window treatment that works by being pulled up and down on a set of strings can easily be motorized, just by wrapping the drawcords around a powered spindle. Shades are lightweight and simple to control, so motorizing them is an inexpensive matter. Blinds have more adjustment options and weigh more, so their motors need to be made stronger and better elaborate.
Sliding Open and Shut
Some styles of curtains and blinds don't rise and fall, but instead slide left and right across the window frame. While these require a less intuitive solution than "wrapping the string around a spinning wheel," motorization is still possible and not uncommon. These features tend to be heavier than the lifting options, but depending on their track design they don't necessarily take more energy to move. The main downside is that either their motors or their tracks tend to be bulkier.
Non-Mechanical Systems
The hardest type to automate by far are treatments that don't slide either vertically or horizontally, like Victorian style curtains that need to be tied up at either side. While elaborate systems can overcome the difficulties here, the end result tends to be either unsightly, or prohibitively expensive.
Almost any kind of window shades or blinds can be motorized. Call us today for custom made window treatments and our team will be happy to help you out!