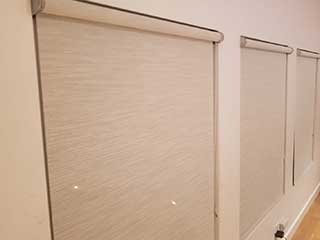 We've all had to put up with sunlight glaring into our eyes with the shades not doing enough to soften it. Headaches and strained eyes aren't the only problems that can be caused by the wrong window coverings, though. If you can't keep sunlight out of a part of your Mission Viejo property, it's hard to keep temperatures in your under control. In addition, if you can't stop light getting into your windows it also won't struggle to get out. That means people can see into your property, particularly if you have the lights on at night. Custom blackout blinds are the solution to these problems. And to many other ones. When we create made-to-measure coverings for your windows we let you choose every single feature, from colors and materials right down to the way you open and close them. The Mission Viejo Blinds & Shades promise is high quality at a fair price. Set up a free consultation in the local area by calling our team today.
Mission Viejo's Best Blackout Blinds
We take care of you from start to finish, giving you total control at every step of the way. You're able to pick from a huge range of different styles and colors, and you'll quickly find out that blackout blinds don't have to be plain. Far from it, in fact. There's so much choice that you can easily find the perfect window coverings to match your own individual style. Pick a fashionable set of blackout blinds for french doors, and get the ideal combination of functionality and beauty. Would you like to see our high-quality products for yourself? It's easy. Simply call our Mission Viejo-based specialists to set up a free consultation at your address.
Better Privacy With Blackout Blinds
One of the most important reasons to install blackout blinds at your property is to guarantee privacy. A common issue that homeowners have is neighbors' windows overlooking their own. This can mean they don't get enough privacy in their bedrooms. Other problems, such as bright street lights, can stop you from sleeping well at night. Blackout blinds for bedroom windows are an easy, low-cost solution to these problems. No matter what size windows you have, our made-to-measure solutions are a fast and hassle-free way to get the privacy and comfort you need. As if that wasn't enough, you can also choose to invest in motorized blackout blinds. With smartphone control capabilities, you can easily open and close your window coverings without even getting out of bed! What could be more luxurious than that? To find out how little this could cost, just contact us today for a free estimate.
Amazing Room Darkening Blinds At Affordable Prices
Our fantastic range of blackout blinds covers every single type of window treatments you could need. Whether you need new dark covers for a home or something to add privacy to a corner office, our custom blinds will do the trick. And then some! We offer blackout blinds for skylights, with custom-designed options that let you keep out light from any angle. If you're a business owner, you should consider installing blackout blinds for office windows in your workplace. These work to reduce stress, eye strain and headaches amongst your staff and visiting customers. All of this comes at a low cost, too. Find out just how low by scheduling a consultation at your Mission Viejo address today.