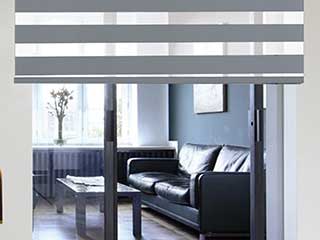 It can be very hard to determine what type of covers to get for your home and office windows. But if you're looking for ones that offer a great deal of variety, not only in terms of design but also in terms of light filtering ranges, then layered shades are without a doubt one of the best solutions out there.
Excellent UV Protection
Whether opened or closed, layered shades make for an excellent light filtering window cover that will diffuse sunlight and keep you safe from harmful UV rays. These shades consist of two layers, with an alternating pattern of opaque and sheer bands. They move on a loop when you adjust them, bringing one layer onto the other, thus allowing you complete control over sunlight exposure. Even the sheer stripes, that will allow light in, are still made of fabric that will provide UV protection and help you keep your furniture and walls from sun damage.
A Special Sense of Style
Because of their unique design, layered shades have a special look that many home and business owners tend to favor. They make for an excellent décor contribution to kitchens and living rooms, due to their ability to alter the room's natural lighting conditions very quickly and simply. The striped design of layered shades comes in a wide range of colors, and even various textured options. You're sure to find something that suits your taste.
Throw a Motor On It
Well, ok. The automation of window treatments is a bit more complex than what the aforementioned sub-header may imply. With innovative technology from brands such as Lutron and Somfy, you can have hardwired or battery powered layered shades that you can control from virtually anywhere in your property. While remote handsets are still very popular, what many smart home enthusiasts prefer is to use their smartphone or tablet devices to adjust their shades via the magic of wireless communication. There are also solar powered options, as well as self-regulating shades that use sensors to adjust themselves according to brightness and temperature levels.
Stylish and Beautiful Layered Shades
If you're looking for nearby window treatment providers, Mission Viejo Blinds & Shades is the LA-based company to get in touch with. Schedule a free consultation with one of our experts and find out why so many Ventura and Orange County property owners choose to add custom made layered shades to their windows.