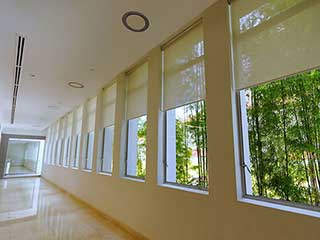 Creating a pleasant and inviting indoor space is a must if you want customers and clients to remember your establishment finely. Additionally, no one can work efficiently with the sun constantly glaring in their eyes. Mission Viejo Blinds & Shades can custom design window treatments for any sort of commercial establishments, tailored to specific needs and wants.
Suit the Atmosphere
Some protective, heavy cloth shades are perfect for a department store or lounge, while some elegant bamboo roller sheets are perfect for a café or restaurant. In a professional office environment, you might prefer to opt for sheer shades to keep things more private or for utilitarian rigid blinds for an expansive floor with many large windows. All these options, and more, are available for installation at your local address by our professionals.
Central or Distributed Control
You can leave each of your window blinds or shades with its own lever or hand-cord to allow employees or customers to adjust them at will, or motorize them all and keep control of the entire indoor space yourself. Motorized window coverings are especially useful in larger businesses with many windows, where you can program the systems to automatically adjust themselves as needed throughout the day. This way, there is no chance of overlooking one and damaging your furniture or overheating a room.
Save Money Too
Interested in saving yourself some heating and air conditioning expenses? Then, you should try some cellular shades designs. These intricate window shades are designed to minimize convection and will keep your business warm when it's cold outside and cool when in summer. If you combine these with an automatic motor system, you can shave off a substantial portion of your electricity bill without having to do any more work or live in less comfortable conditions.
Get Your Own Commercial Coverings
Give Mission Viejo Blinds & Shades a call, and our team can get started on your custom order today. The sooner you get in touch with us, the sooner your window treatments will be ready to wow your employees and customers!