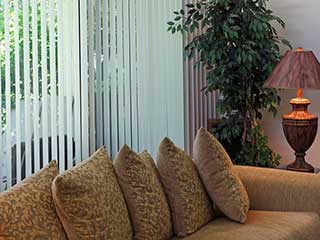 Hey there, welcome to the product page for our custom-made vertical blinds! If you live or work in the Mission Viejo area, you've come to the right place. Are you looking for some sliding window treatments for large glass surfaces or something to cover sliding glass doors? Read on to learn more about our vertical blinds design, production, and installation services. You can also give us a call to arrange a free in-person consultation appointment at any local address.
Why Choose Vertical Blinds
What makes vertical blinds different from other types is their side-to-side opening and closing, and their panels being bound at the tops and bottoms. What this means in practice is that you'll want vertical blinds for windows that are wider than they are tall. Most vertical blinds are designed to collapse or flatten themselves against the side of the window. Others slide into a socket built into the side of the window frame. This means that when you want your windows or glass doors unblocked, you have a clear view. Most vertical blinds can also swivel in place, to allow in filtered sunlight.
Vertical Blinds For Office Windows in Mission Viejo
Workplaces, especially offices and waiting rooms, can often make good use of vertical blinds. The sideways opening allows you to let in some sunlight and air in while still shading the sensitive computer monitors or waiting clients! The mechanical sliding rollers that these blinds move along, and the orderly vertical lines, also help create a professional and orderly atmosphere without sacrificing comfort.
Vertical Blinds For The Mission Viejo Home
Any room with wide enough windows can use vertical blinds, but some, in particular, tend to do well with them. Living rooms or galleries with wall-sized windows often contain perishable objects, so sliding blinds with their selective protection are a great choice. Vertical shades for sliding glass doors are another natural fit. It's easy to add another track for the shades' rollers next to your patio door tracks, and the symmetry makes a nice aesthetic statement. Whether in the kitchen, the bedroom, or the parlor, your Mission Viejo residence can benefit from adding some nice vertical blinds!
Options Abound With Our Custom Blinds
At Mission Viejo Blinds & Shades, we mean it when we say "custom." Choose the colors, housing and track style, and even materials for your blinds, and we'll make it happen! Wooden, vinyl, and aluminum vertical blinds are all on the menu. Feel free to consult our experts on the merits of each material, and they'll help you find the best option for your property. For some extra style, try vertical blinds with curtains. In addition to being very nice to look at, this multi-layered window or door covering gives you the most control over light, air, and privacy levels. You can also go high tech, and order some remote-controlled or smart blinds.
The Benefits Of Motorized Vertical Blinds
Automatic blinds might sound like a mere luxury, but they're also quite practical. They can even save you money in the long run! Vertical blinds that open or close at set times of day ensure that your furniture, wallpaper, and indoor climate are always accounted for. Even if you forget, sleep in, or have an urgent thing you have to run off to take care of! With smart sensors, you can go even further and have motorized vertical blinds that react to Mission Viejo weather conditions all on their own. The air conditioning, heating, and home repair savings catch up fast!
Get a Free Quote On Custom Vertical Blinds!
Call Mission Viejo Blinds & Shades for a free estimate on any type of covers, rigid or soft, for windows, skylights, French doors and more. We offer tremendous variety when it comes to vertical blinds, including blackout options and wood, metal, and vinyl vanes. Book your free no-obligation estimate and see the wide range of choices you can pick for your new custom made vertical blinds set.