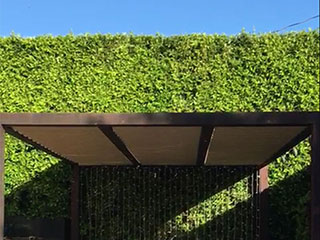 Protection from sunlight while you're outside matters a great deal. For outdoor lounge areas like your Mission Viejo patio, covers that provide sufficient protection are important. So to ensure your safety and add a splash of color and decorative aesthetics to your backyard, garden, deck, or other, get new patio shades installed. You've got all sorts of viable options to pick from, including motorized patio covers and freestanding outdoor canopies. It all comes down to your specific needs, and the budget you want to adhere to.
Freestanding Patio Shades
One of the simplest covering solutions for outdoors is getting freestanding outdoor canopies set up. A pop-up canopy tent lets you simply raise a shade over any section of your Mission Viejo patio or other backyard spots. From gardens to lawns to decks and more, pop up canopies for outdoors provide a shaded spot to lounge under without squinting at the sun. The portability of pop up canopy tents makes this type of patio shades very popular and effective. You can choose all sorts of designs for it too, making it easy to add an aesthetic quality to different hardscapes.
Shade Sails and Awnings
For more unique patio covers, you can go with fabric canopies that attach via ropes, strings, or other methods. Awnings work very well to add shade to angled sections or the sides of roofed structures like gazebos and pavilions. Motorized awnings do that with the benefits of remote control operation. Shade sails add a splash of color to the landscape, hanging above your head while connected to poles or pillars that keep them situated above the desired section. With shade sails, you can add all sorts of colored designs to your Mission Viejo patio, covering a large or small section depending on your needs.
Motorized Patio Covers – Remote Control Outdoor Shades
One of the most popular options is to have new patio shades motorized. You can utilize the new technological advancements of remote control features and use Wi-Fi or Bluetooth to control your motorized patio shades without getting up from your deck chair. What's more, motorized patio shades, custom made to the dimensions of your courtyard or other designated section, will provide perfect protection with no sudden glares or swats of harsh sunlight falling on you. The benefit of custom made motorized patio covers lies in remote control features and the assurance of complete coverage. Our custom-designed Mission Viejo motorized patio shades also add a decorative look to the outdoor space. This makes for an excellent way to make your patio or decking a viable outdoor lounge even when the sun's at its hottest.
Affordable Patio Covers For The Mission Viejo Area
You have many different choices when it comes to patio shades. The easiest way to decide is to consult with experts on outdoor covering solutions. Like our local professionals! Get in touch with us to book a free estimate on patio shades for any nearby Mission Viejo area home or business. We design and install custom made patio covers of a wide range of types. So you can always find something and customize it to your liking with us. Schedule your free consultation by calling or contacting us online!