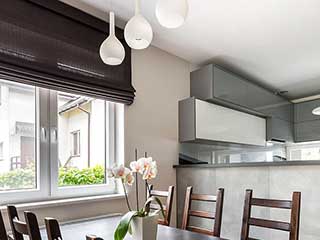 The use of window shades and blinds is a necessity especially if you're serious about controlling the indoor light you have in your home, office or store. You don't have to settle for drab-looking drapes. Nowadays, there's a great way to combine both elegance and utility with the use of pleated or flat window coverings. One of the best options when it comes to that are Roman shades.
The Ancient Solution
When Roman shades cover your windows, they can look flat and very simple, depending on their design and style. Although there may be some seams and pleats that certain models boast, for the most part, they will look like simple drapes hanging down a roller mechanism. However, when they're pulled partially or fully up, your flat roman shades reveal their true stylish nature. The fabric folds up into uniformly sized pleats. Because of its naturally soft texture, the shade will have a naturally gentle curve to it adding more style to its look. This makes Roman shades a sought after decor contribution that many home and business owners go for.
Custom Made Roman Shades
With the use of custom made coverings, you are taking the right steps to ensure that you're always in control over your indoor illumination. If you prefer to utilize the sun's bright light to liven up a room but you think that direct unfiltered sunlight is very irritating or dangerous, then it's best to make use of window sun shades that are designed to block out harmful UV rays and diffuse very bright light thereby reducing the prevalence of hotspots.
Let Mission Viejo Blinds & Shades Help You Decide
No need for you to decide which type of Roman shades is right for your windows alone. By contacting us, you'll get all the guidance you need through the decision-making process. Find out about the various cordless and motorized shade options that you can opt for. Learn about the various cellular insulation and sheer or room darkening fabric that you can choose for your new shades. There's a wide variety of options, and your imagination is really the only limit.