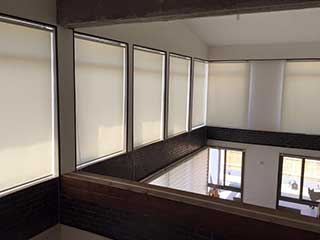 Motorized shades mean that there's no more need for those unsightly and annoying cords. You won't need to tug on any strings to open or close the shades yourself. Instead, you can do it all remotely, without getting up from the comfort of your bed.
It's Time To Modernize
If you already started making use of smart-home technology, or are considering taking the first step, motorized shades make for a great place to start. Installing automatic window treatments throughout your house will make life that much easier on you. This innovation is especially great for homes with a lot of windows that require repeated adjustments. Whether the sun is pouring in and shining directly on your furniture, or it's time to put the baby down in the nursery, you can easily close the shades with the touch of a button. Motorized shades move quietly, especially with Somfy motors, so there's no concern of causing disruption. You can even set them on a timer as well to give you even less to worry about.
Safer Around Children
When kids see manual cords for shades, the first thing they usually want to do is play with them! Unfortunately, this can be risky for them, as they can get tangled up easily. It may even damage the shades themselves. With motorization, there's no need for cords, so you won't have to concern yourself about such risks. You'll be able to have the wall-switch installed somewhere high beyond their reach, or have the entire motorized shade system operate automatically and independently, using special brightness and weather sensors.
Take The First Step Now
Contact Mission Viejo Blinds & Shades today and let us help improve your home or office with new, state of the art motorized window coverings! There's a range of options to choose from, which is where our free consultation appointment comes in handy. Sit down with a nearby expert and ask them everything you want to know about motorized blinds and shades. Once our professionals measured each window to custom make each shade according to the appropriate dimension, our installation team will return to your property and make sure your new motorized window treatments are set up perfectly.